VR film Darkening
Take a dive into the first Czech VR film Darkening in a unique installation specially designed for the NaFilM museum. The screening room is filled with 12 km of rope to enhance your unconventional film experience. Come to the only place in Prague where you can put on a headset and watch the first Czech VR film premiered at the Venice International Film Festival.
The autobiographic film directed by Ondřej Moravec uses a new medium to show you what goes onin the mind of a man struggling with his inner demons. Join the protagonist on his journey through an interactive story where you can literally touch his world, lend him a helping hand and discover the soothing strength of your voice. Screenings are available by advance registration during museum hours until September 30.
Do I need a reservation?
Yes, you can reserve a spot at the screening in person at the museum box office, by email at muzeum@nafilm.org or by phone at +420 603 195 998.
How does it work?
The VR installation is part of our exhibition space. You can visit it anytime during the museum's opening hours after purchasing a ticket. The film is screened every thirty minutes, the first screening starts at 1 pm and the last screening at 7 pm. The capacity is 3 seats per time slot.
How long does it take?
25 minutes
What is the admission fee?
The screening can be attended with a valid museum ticket for an additional 50 CZK. You can also purchase a ticket separately without visiting the museum exposition for 80 CZK.
Is Darkening suitable for children?
The film is suitable for ages 12 and older.
director: Ondřej Moravec, art director: Bára Anna Stejskalová, producer: Hana Blaha Šilarová (Frame Films), screenplay: Ondřej Moravec, Alice Krajčířová, artist and animator: Long Phi Trieu music: Billy Mello, Lenka Dusilová, sound: Tomáš Oramus co-production: Robin Pultera (Brainz Immersive), Gayatri Parameswaran, FelixGaedtke (NowHere Media)
installation: Magdalena Nováková, Michal Kreidl, Martin Černý, Jakub Jiřiště, Adéla Mrázová and the entire NaFilM team
The creation of the film was supported: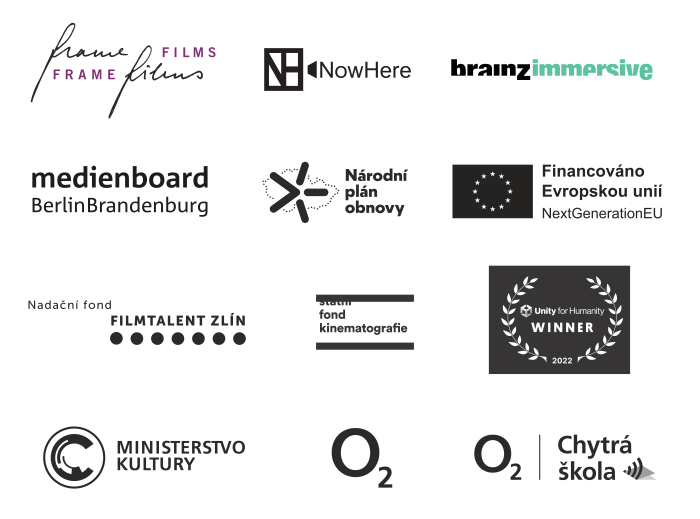 See film differently!
Opening hours:
Tue - Sun | 13:00 – 19:00
(open mornings for larger group bookings)
Admission:
full: 190 Kč
reduced (children, students, seniors): 140 Kč
family (2+2): 560 Kč
Contact:
muzeum@nafilm.org
phone: +420 603 195 998
Mozarteum, Jungmannova 748/30, Praha 1 - city centre
Enter from the Franciscan Garden off Jungmann Square
Museum is funded by the City of Prague, the Czech Film Fund and the Ministry of Culture, the Visegrad Fund and Erasmus+. It is also supported by the Charles University in Prague that has given NaFilM a prestigious award for its outstanding contribution.